Alfajores de Maizena con Dulce de Leche
These Alfajores are traditional Argentine sandwiched Maizena (cornflour) biscuits filled with Dulce de Leche (milk caramel) and side-coated with desiccated coconut
If you loved the delicious Dulce de Leche, most likely you will love this recipe too!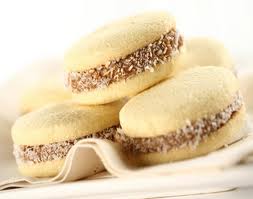 These delights are a favourite treat in Argentina. Something sweet for the "merienda" (afternoon break), accompanying a cup of tea, or of warm milk with coffee or chocolate powder, or even with soft drinks. You will find them at every child birthday party!
Try the recipe, and you will see why...
ALFAJORES DE MAIZENA CON DULCE DE LECHE
Ingredients
Preparation
1-Mix the soft butter with the sugar. Then add the lemon gratings and the vanilla essence.
2-Add the eggs, one by one, without stopping whipping, until obtaining a smooth cream.
3-Sift the cornflour and flour. Add them to the butter mixture and make a dough. Form a ball, cover it with cling film and leave it in fridge for 30 minutes.
4-Turn the oven on (180oC). Dust the working bench with cournflour.
5-Take the dough from fridge and extend it over the cornfloured bench with a rolling pin until obtain a 1 cm high dough. Cut circles of about 3 cm with a cookie cutter (or glass).
6-Butter an oven tin and place the circles on it, leaving 1 cm between them.
7-Oven-cook them for about 10-15 minutes, until dough is dry and gets just a very pale golden colour.
8-Cool them and then make sandwiches using dulce de leche to glue them.
9-Make the alfajores roll over a bolls with desiccated coconut to side-coat them.
10-Enjoy them with a nice cup of tea.
---
- Return from Alfajores to Dulce de Leche (Milk Caramel) Recipe
- Return to Basic Recipes for Cakes
- Return to Cakes



---