Alfajor Rogel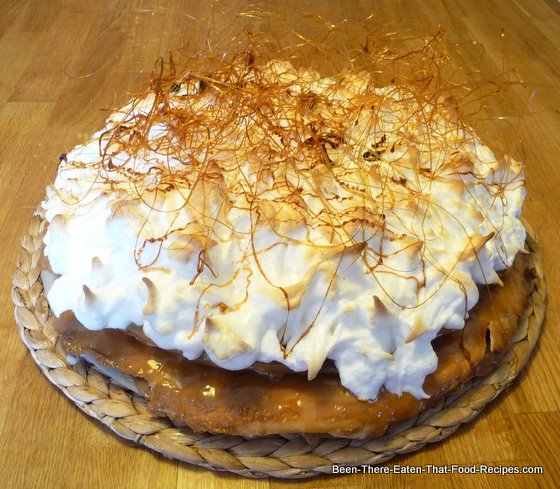 When lifting the glasses for a toast, nothing better that sharing this Alfajor Rogel. Ideal for different occasions, and of course, a feast for those with a sweet tooth...
The combination of the quite plain base with the delicious and rich Dulce de Leche and the smooth and soft merengue on top, make this dessert/cake irresistible!
You could finish it off with a decoration made out of caramel (melted sugar) for a more dramatic effect.
Ingredients
for 8 servings
Base
-9 tablespoons Plain Flour
-7 Egg Yolks
-1 tablespoon Vegetable Oil
Top
-7 Egg Whites
-14 tablespoons Sugar
-1 teaspoon Vanilla Essence
Filling
-600gr Dulce de Leche
Caramel Threads
-200gr Sugar
Preparation
Base
Shift the Plain Flour and dispose it in a circle.
Add the Egg Yolks and the oil in the centre of the circle and work with your fingers until obtaining a dough.
Make 4 same size balls with the dough and let them rest for at least 30 minutes covered with a tea towel.
Roll the balls with a rolling pin, shaping them flat round to approximately 20-22cm discs.
Pierce with a fork the surface of the discs, place them on a baking sheet and bake 6-7 minutes over medium heat, turning halfway through baking.
Let them cool down and put together the Alfajor by covering each disc with Dulce de Leche and pilling them up.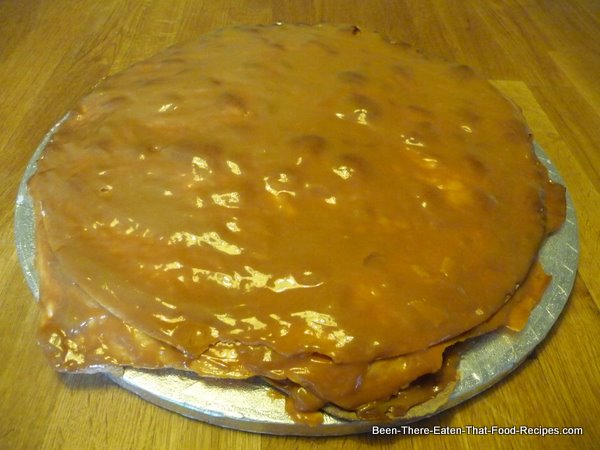 Top
Place the Egg Whites and the Sugar in a bowl in a double boiler (place a mixing bowl inside a saucepan with boiling water, taking care that the water doesn't get inside the bowl) until the mixture gets warm and the Sugar dissolved.
Remove the bowl from the double boiler system and beat the mixture with a mixer until the merengue gets firm and cools down.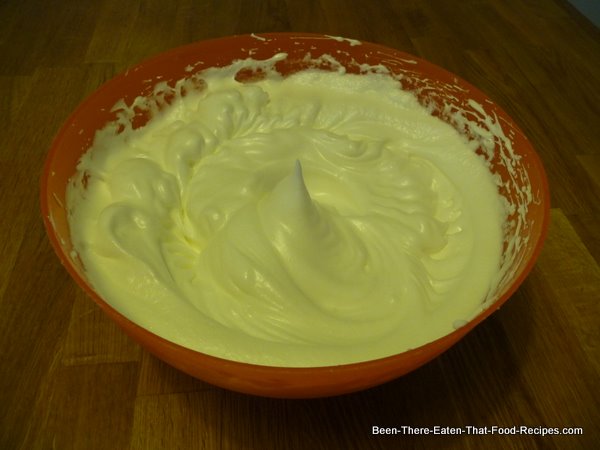 Perfume with the Vanilla Essence and cover the Alfajor Rogel with this merengue.
Make curls or drawings with a fork and brown in hot oven (or oven grill) for few minutes (be careful if using the oven grill to brown the merengue, it will take just few seconds or minutes to be ready!).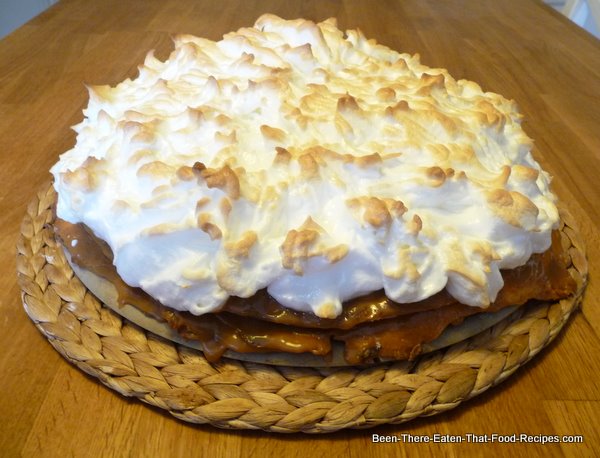 Cover with caramel threads for THAT finish!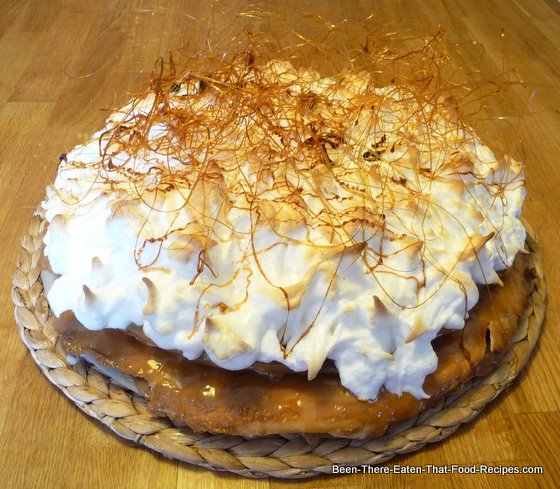 Caramel Threads
Make caramel by placing the Sugar in a small tin and bring to low fire, stirring to avoid burning of the caramel.
Remove from heat and let the temperature drop.
Use a fork to take a bit of caramel and let it drop over the rolling pin, making a zigzag by stretching it with your fingers.
Repeat this procedure many times until obtaining a grill.
Remove from the rolling pin and carefully deposit it on top of the cake.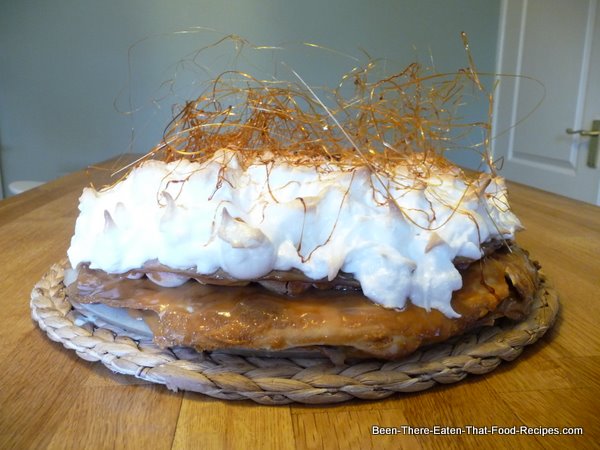 Tip
With time the caramel threads will get flat, therefore make them few hours before serving the Alfajor Rogel, never the night before if you want to keep it up!
---
-Return from Alfajor Rogel to Dulce de Leche
-Return to Basic Recipes for Cakes
-Return to Cakes