Raspberry Tart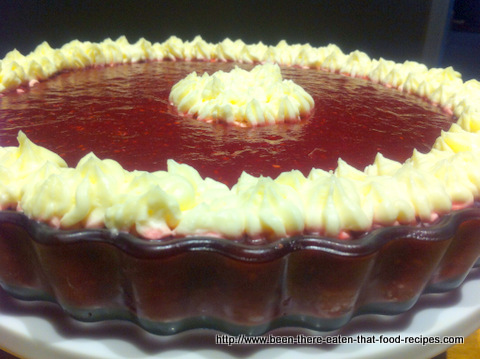 This eye-catching Raspberry Tart will earn you many compliments with its shiny and tempty look!
The seediness and mild acidity of the filling complement perfectly the sweetness and smoothness of the cream...
It is very suitable for entertaining, either for summer tea parties or as a fresh finish for a dinner party, having the extra advantage of being equally favoured by children and adults alike.

Ingredients
for an ovenproof dish of around 25cm diametre

Base:
200g plain flour

100g

butter, unsalted

5 Tsp

cold water


a pinch of

salt

1-2 sp raspberry marmalade

Filling:
450g fresh raspberries


5 Tsp icing sugar




1 x 300g can raspberries in light syrup




12g sachet to make raspberry jelly

85ml boiling water

Decoration:
Preparation
Base: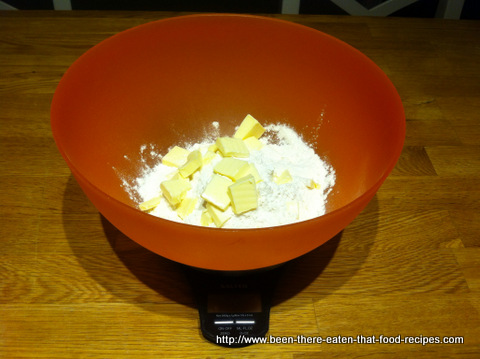 In a big bowl place the flour, salt and butter, integrating everything together with your hands.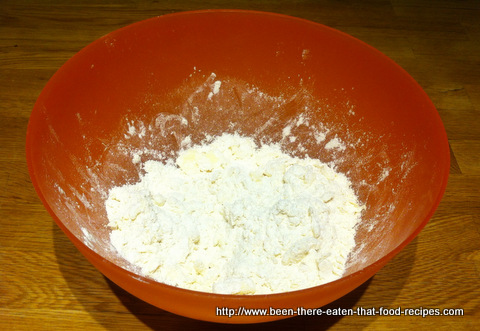 Add the cold water, make a dough and leave it to rest in the fridge for 30 minutes.
With a roll pin, stretch the dough and place inside greased dish.
Prick the surface with a fork and bake for about 30 minutes.
Once cold, spread the marmalade over the base.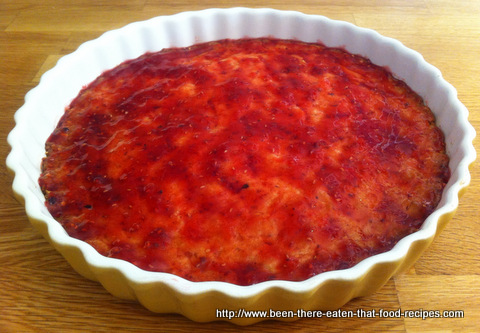 Filling:
Wash the berries, drain and place in a blender.

Add the icing sugar.

Drain the fruits from the can and reserve the syrup (approx. 200ml). Add the drained berries (approx. 115g) to the blender.

Prepare a jelly dissolving the 12g powder in the 85ml of boiling water, and then adding the 200ml of syrup from the can (these amounts will produce a firmer jelly, ignore amounts in pack).
Blend all together until smooth but seedy.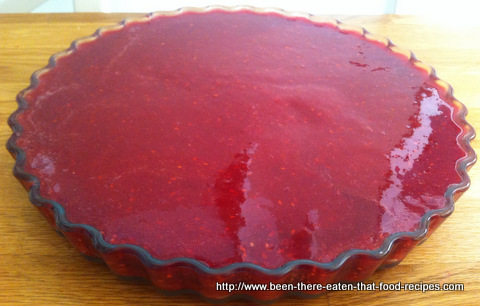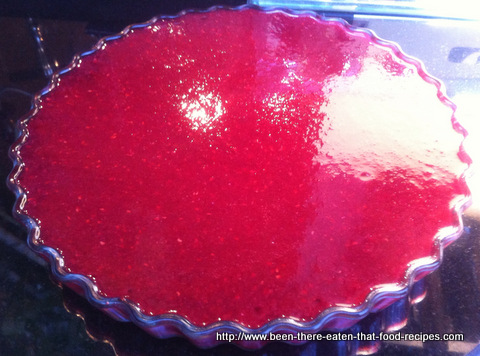 Decoration:
Prepare a firm Chantilly Cream as explained in this link, using about 200ml of cream.

Decorate with

a piping nozzle of your choice, at the centre of the tart and around the borders (see pictures).
Keep in the fridge until serving time.

---
- Go from Raspberry Tart to Cakes
- Go from Raspberry Tart to HomePage
---
FREE eBook & Newsletters
---
Are You Proud of Your Cooking Skills?
Would you like to have a Web Page dedicated to Your Best Food Recipes? Your friends, family and the public would be able to see your page, try your recipes and leave comments...

Ideally, write about recipes of your own creation. However, you are welcome to write about somebody else's recipes as long as you acknowledge their credit.

With this chance of shining online, your cooking will be so much more appreciated!!!
---