Apricot_and_Cherry Upside-down Cake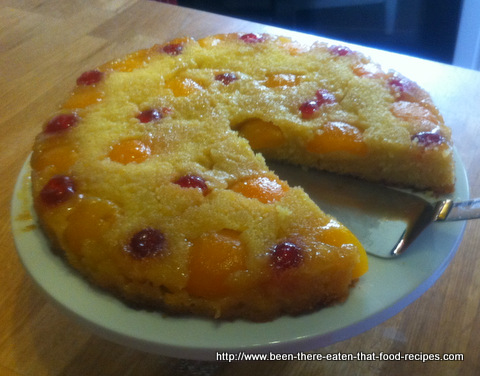 Perfect for children's first attempts at baking!
This Apricot_and_Cherry upside-down cake is delicious and very easy to make. It does not require any especial equipment, not even a mixer!
This recipe is based on one that I found in the children´s book entitled "What Shall I Cook?" (by Ray Gibson, Usborne Publishing), that one of my sons received many years ago as a present at one of his birthday parties.
The recipe also works very well with other fruit choices, such as apple pieces, pineapple rings and canned halved peaches.
APRICOT AND CHERRY UPSIDE-DOWN CAKE
Ingredients
These ingredients are for a 25cm (8in) round ovenproof dish.

Tip 1: both the margarine and the butter should  preferably be unsalted or "for cakes".

Preparation

The Apricot_and_Cherry upside-down cake can be made by beginners or children, because it is very easy to prepare and does not require much supervision, apart from when taking it into and out of the oven.
Through some pictures, my enthusiastic friend Ana will show us how she made this cake all by herself!

- Turn the oven on to 180ºC (350ºF).

- Place the soft margarine into a large bowl.
- Add the eggs, sugar, sifted flour and stir all together with a wooden spoon until creamy.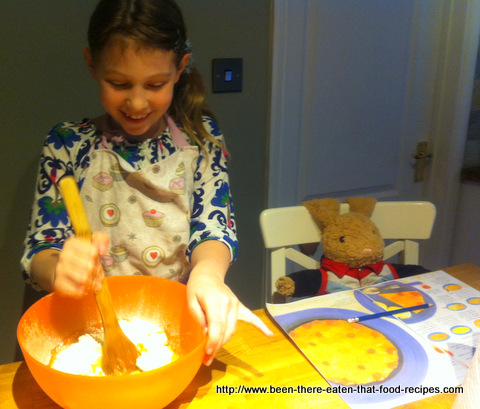 - Grease the sides of the ovenproof dish.
- Melt the butter (microwave for few seconds) and spread it on the base of the dish (a pastry brush could be handy if you have one).
- Sprinkle brown sugar evenly on top of the butter.
- Distribute on top the apricots halves, cut-side up, in a concentric form.
- Fill some gaps with the cherries.
- Add the creamy mixture on top of the apricots and cherries.
Tip 2: Because this is an upside-down cake, add the mixture very carefully over the peaches and cherries, to avoid disturbing their positioning. The best way is to add a spoon of mixture on top of every peach and cherry, and then add more spoonfuls to cover the space in between, paying particular attention to not moving the fruits around.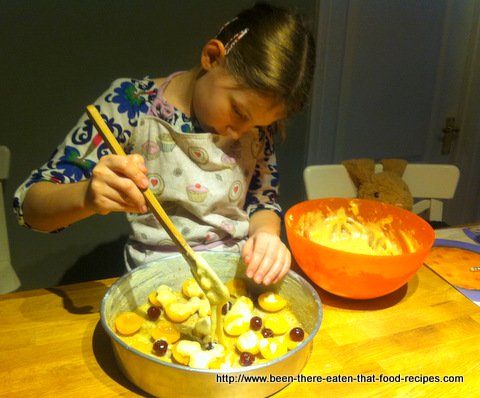 - Bring to the oven middle shelf and bake for about 40-45 minutes.
- With a knife loose the edges and turn the cake over on a serving dish.
- You can dust the cake with icing sugar just before serving if wished.
WELL DONE ANA!!!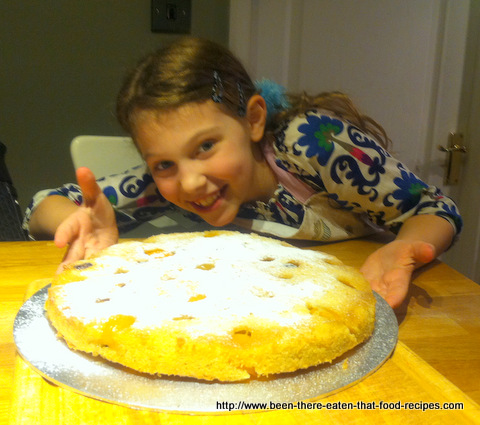 It tastes great still warm and accompanied with creamy vanilla ice-cream!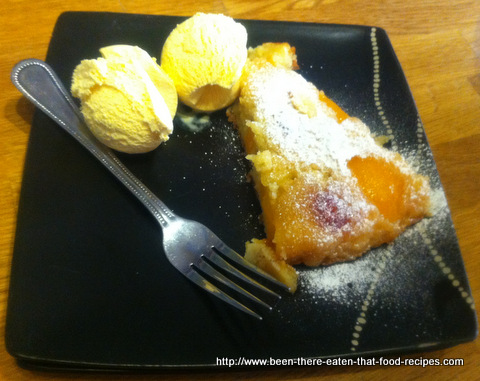 Enjoy it as a dessert or as the perfect companion to a cup of tea.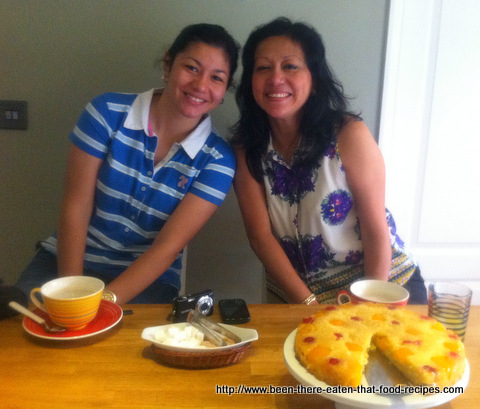 ---
- Go from Apricot_and_Cherry_upside-down_cake to Home
- Go from Apricot_and_Cherry_upside-down_cake to Cake Recipes

---
FREE eBook & Newsletters
---
Are You Proud of Your Cooking Skills?
Would you like to have a Web Page dedicated to Your Best Food Recipes? Your friends, family and the public would be able to see your page, try your recipes and leave comments...

Ideally, write about recipes of your own creation. However, you are welcome to write about somebody else's recipes as long as you acknowledge their credit.

With this chance of shining online, your cooking will be so much more appreciated!!!
---