Moussaka, step-by-step recipe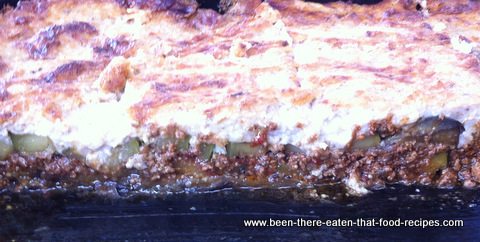 Prepared during my family holidays in Alonissos island, Greece, ...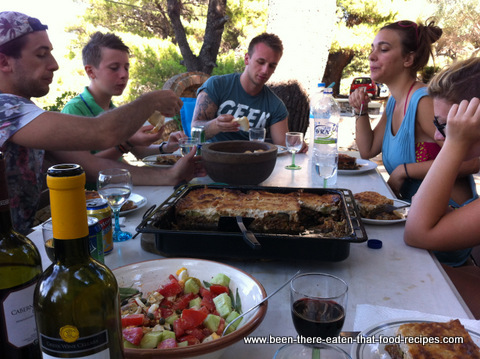 ... with Yannis Vlaikos, whose villa we rented.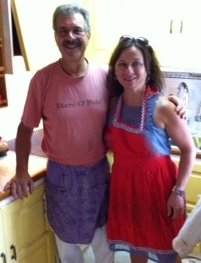 This moussaka recipe is authentic Greek and delicious.
We were renting Yannis' villa, traditionally built in a secluded part of the National Marine Park in Agios Petros, which offers amazing views of the Aegean Sea (pictures below). And the idea of him teaching me how to cook this local dish arose.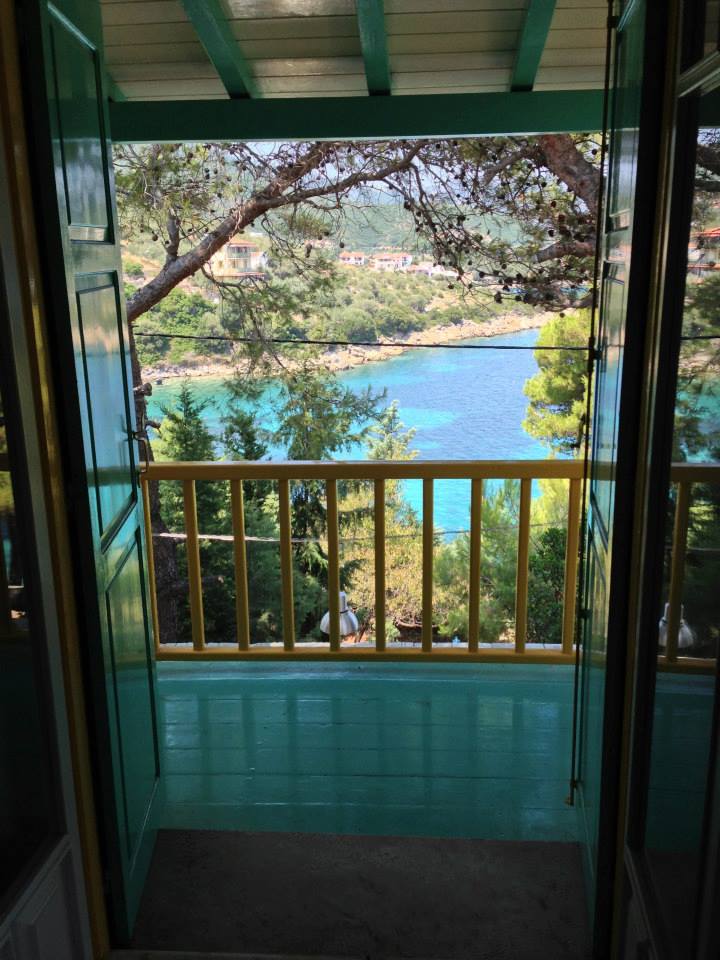 Yannis very kindly offered his own kitchen in the nearby Patitiri for the cooking since in there were the homegrown ingredients we needed for the moussaka.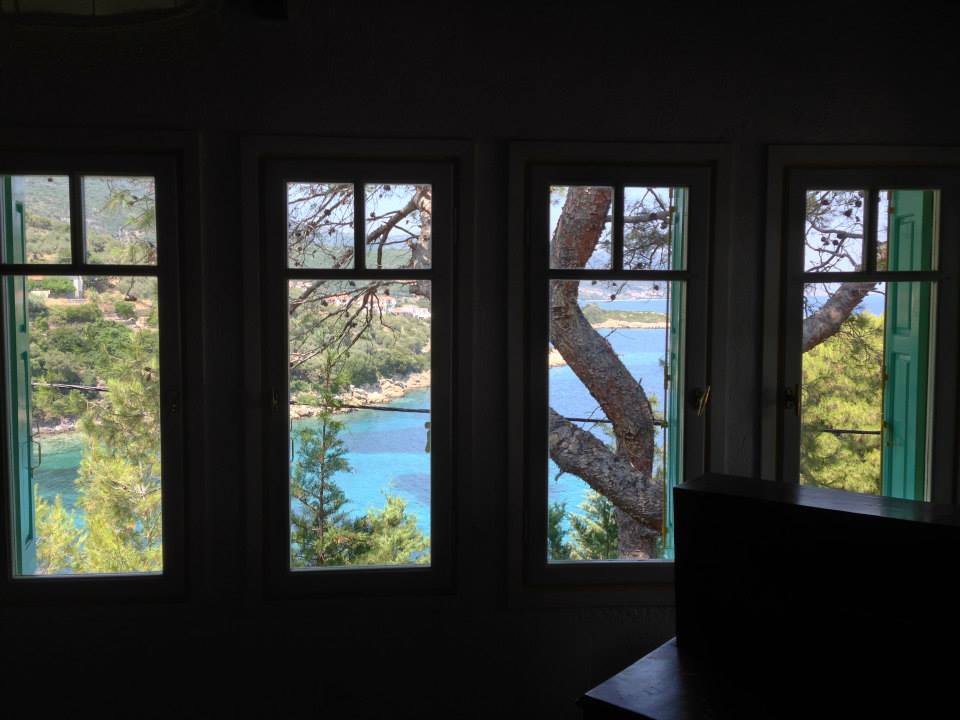 My husband and I not only learnt about the moussaka secrets that day, but also about Greece and the concerns of its people, as Yannis proudly told us their stories. He also offered us to taste some of his homemade lemon conserve and the sweetest pears from his garden. We even drunk from wine glasses that dated back from the 1800s!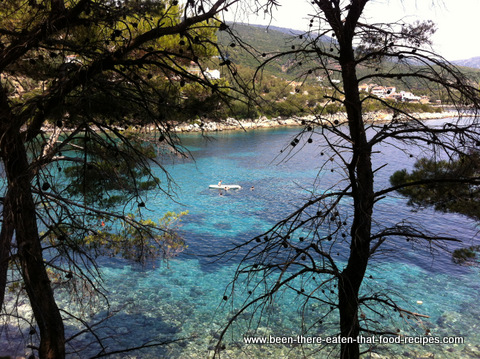 Yannis offered us a "guide tour" on his traditional boat around the nearby islands with his family. The day included trekking to ancient spring waters in Peristera; snorkeling inside the famous Alonissos blue cave and by lovely isolated beaches; and even visiting the site of the famous 2500 years old shipweck at Pethaménos, which was first reported and explored by our new friend from the neighbouring Steni Vala, the local legend Kóstas Mavríkis, and his father. Overall, what a day!
For more about Kóstas, go to my page Alonissos.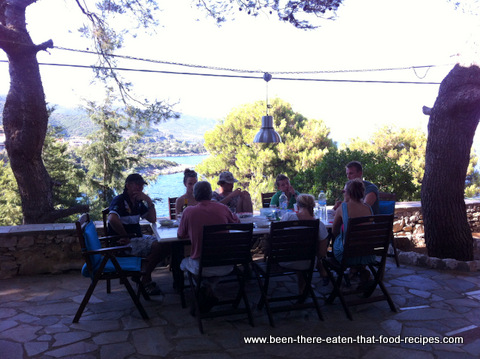 If you are interested in renting Yannis' lovely villa, I pass you his contacts:
---
For your summer holidays on Alonnisos:
www.vilavala.gr / e-mail: vlaikos@vilavala.gr
---
Enough introduction, now to the moussaka recipe!
MOUSSAKA
Ingredients
(for a BIG oven dish)
1 litre

corn oil

1

onion

2

garlic cloves

6

large aubergines (eggplants)

2

large courgettes (zucchinis)

2

green peppers

1/2

chilli pepper

~200ml (~13 Tbs)

olive oil

~60ml

water

1 kg

mince (lamb or beef)

2 cans

chopped tomato

5 Tbs

tomato puree

2 Tbs

butter

7 Tbs

plain flour

1 1/4 litre

whole milk

3

eggs

Parmesan cheese for topping

2 Tbs

Quaker oats

oregano

sea salt (or cooking salt)

black peppercorns

white pepper, ground

whole cloves

cinnamon, ground

2

cinnamon sticks

2

bay leaves

1/2

freshly grated nutmeg
Note: All the vegetables and most of the spices used in Yanni's recipe came from his garden! He even kindly provided me with some homegrown oregano and bay leaves to bring home for future moussakas...

Preparation
Meat layer

- Add some corn oil on a frying pan and place it on a mediun heat. Chop the onion.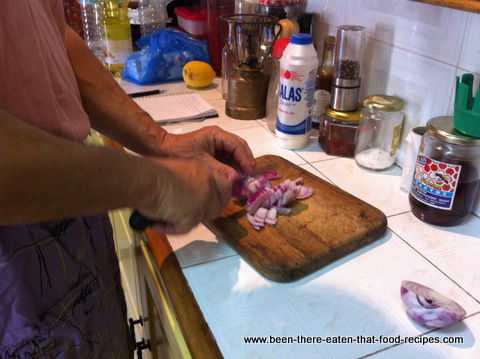 - Add the chopped onion to the frying pan.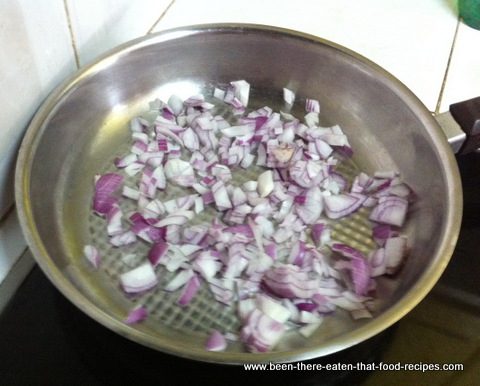 - Wash and dry the aubergines. Take only half of an aubergine and cut it lengthwise...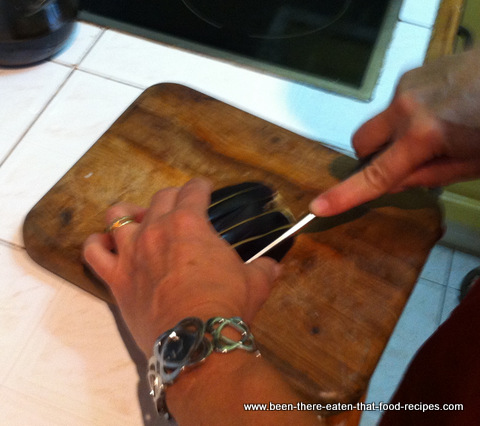 ... and then crosswise, and add it to the pan.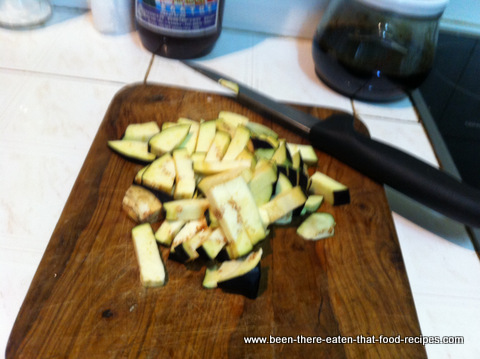 - Wash and dry the zucchinis. Take only half of a small zucchini, or equivalent amount, and cut it in the same way we cut the aubergine. Add it to the pan. Reserve the big one for later.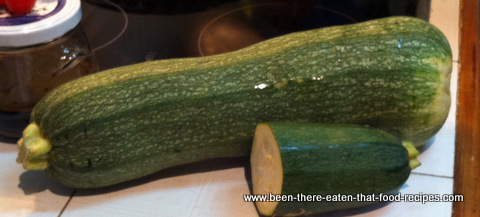 - Cut the garlic cloves and chilli pepper finely, ...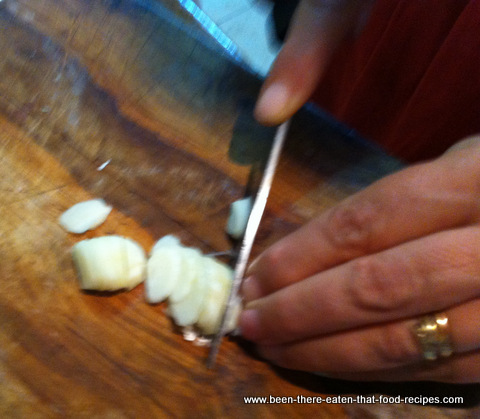 ... and the green peppers in rings, and add them to the preparation.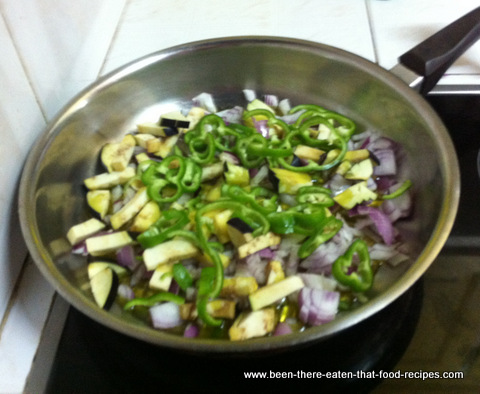 - In a spice mill, ground together some black peppercorns and whole cloves (Yanni used two different varieties of Greek whole cloves) and season the mix.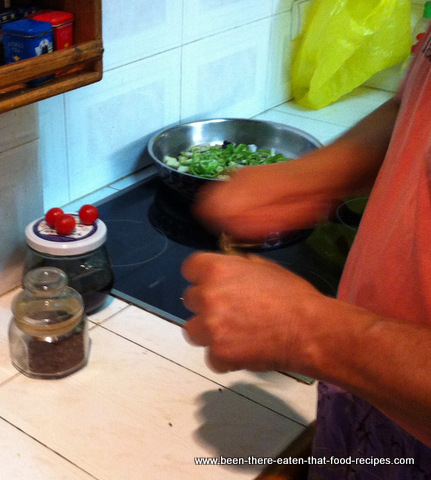 - Also add ground white pepper, ground cinnamon, oregano and sea salt to taste.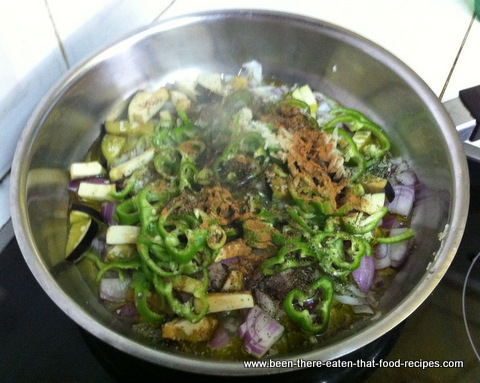 - Pour in 4 Tbs of olive oil and mix all together.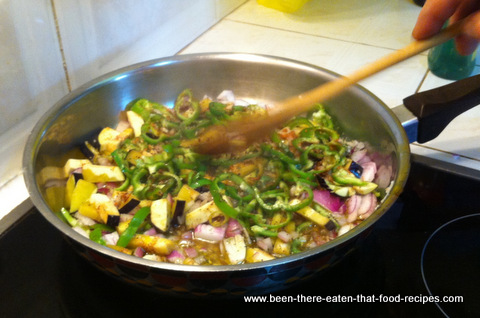 - Cover with a lid and cook until soft. Add a bit of water.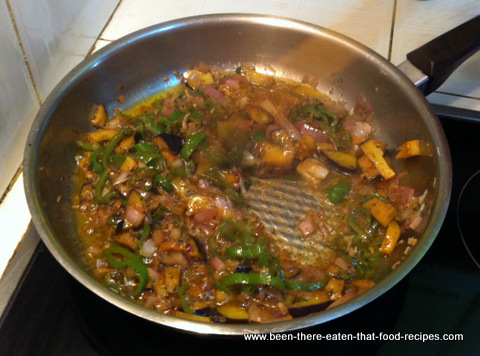 - Add the mince. It can be lamb or beef. In Alonissos it is difficult to find lamb meat, therefore, beef it was!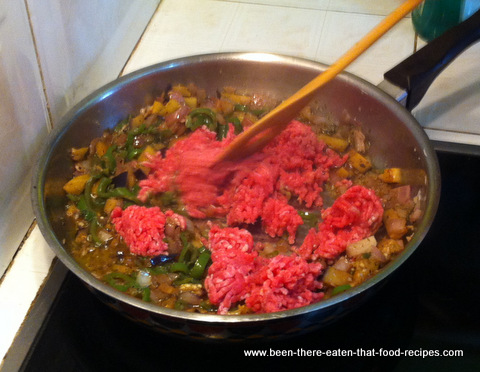 - Mix the mince thoroughly with the preparation.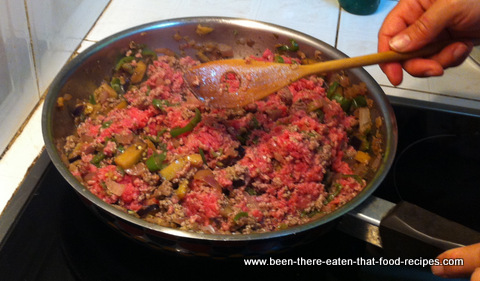 - Let it brown.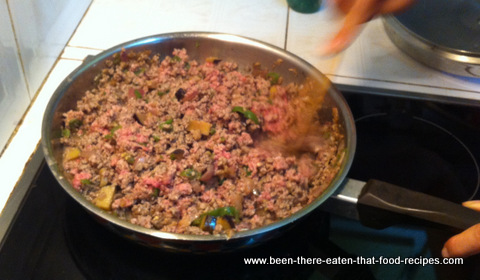 - Add the tomato puree, ...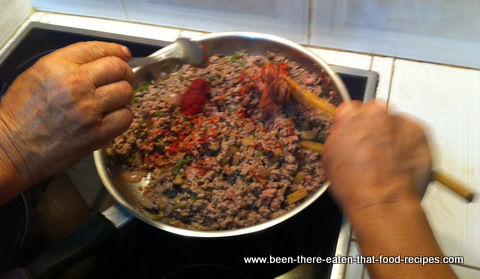 ... and the chopped tomatoes.
- Mix well. Adjust seasoning if needed, and add the cinnamon sticks and bay leaves. Cover.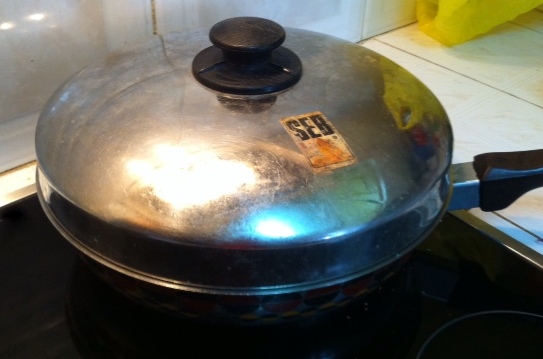 - Let it simmer until ready and juicy.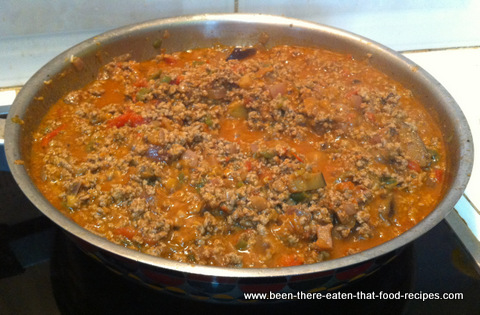 Vegetable layers

- Wash the large zucchini and cut it into ~1cm thick slices (about ~16 slices).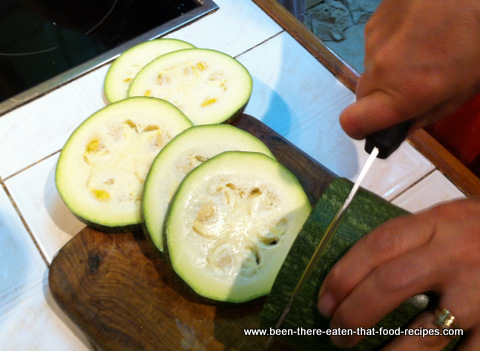 - Place them in a container and reserve.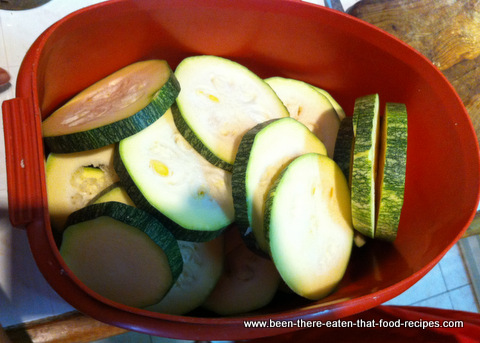 - Take the remaining 5 1/2 aubergines, remove the top attached to the stem, ...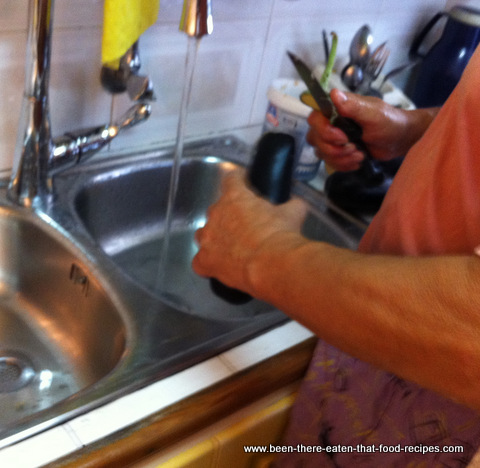 ... cut them lengthwise...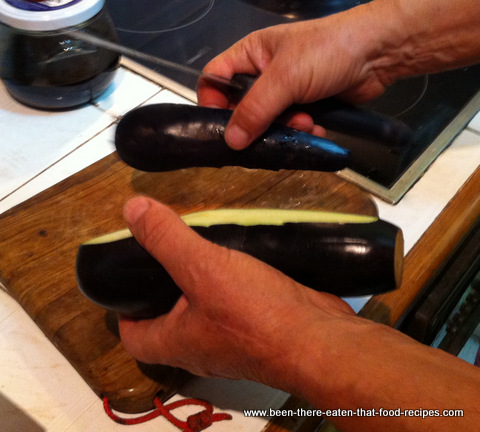 ... into ~1cm thick slices, ...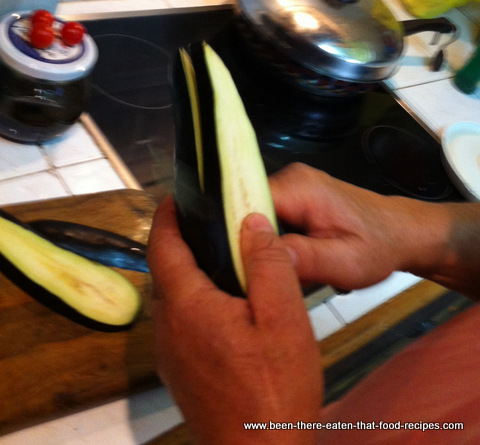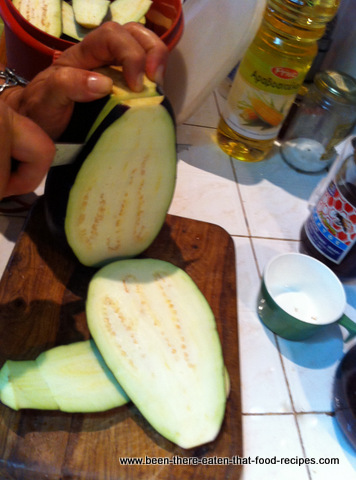 ... and reserve them in another container.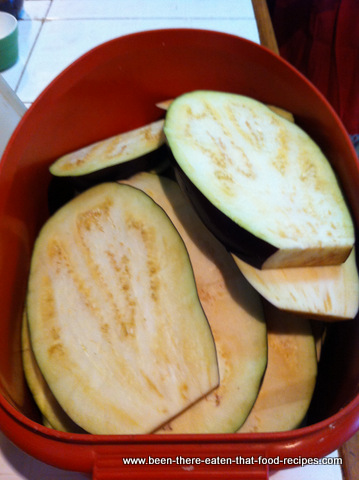 - Grease thoroughly a big oven dish (the one usually provided with the oven is perfect) using about 1 Tbs of butter.

- Place another pan on a medium heat with ~1cm deep of corn oil. Put some plain flour into a plate. Have both zucchinis and aubergines handy, and the buttered dish and a flat surface ready.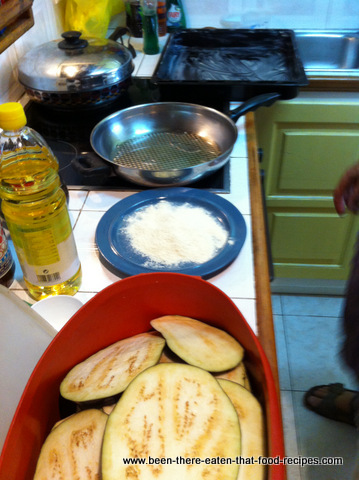 - Take alternate slices of aubergines and zucchinis and one-by-one place them on top of the flour, and turn them around to make sure they are fully covered by the flour. Use a kitchen brush to remove any excess of flour.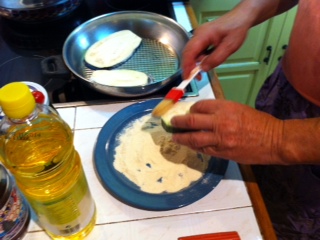 - Place the floured slices into the pan until brown. The first slices will take longer to get ready, but with the rest, the proccess will be much quicker.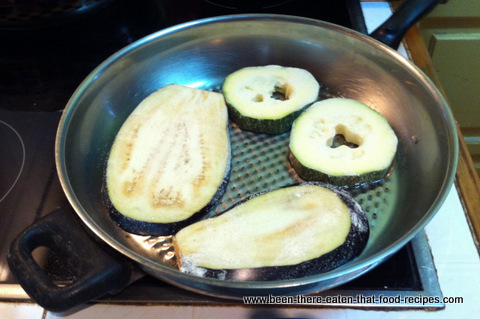 - Once brown in one side, turn them to the other side. When ready in both sides, remove them from heat and place them on the flat surface.
- Add a bit more of corn oil when dry and keep on adding more slices to the pan. Repeat until all slices are brown in both sides.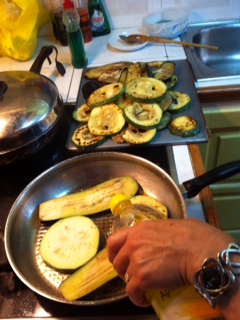 - Alternating the zucchinis and aubergines slices, distribute them into the buttered oven dish, making sure that the dish bottom is completely covered with slices. Add some salt to the layer.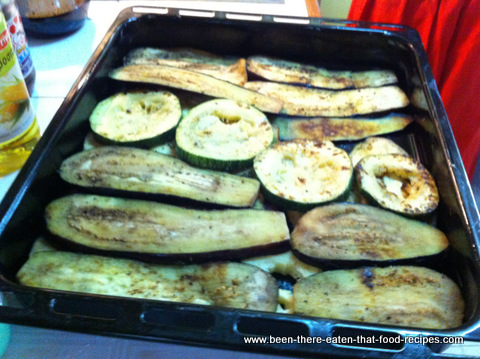 - Add a second layer of slices and cover any gap with small cuts of slices until the bottom of the dish cannot longer be seen. Salt this second layer. Reserve the remaining slices.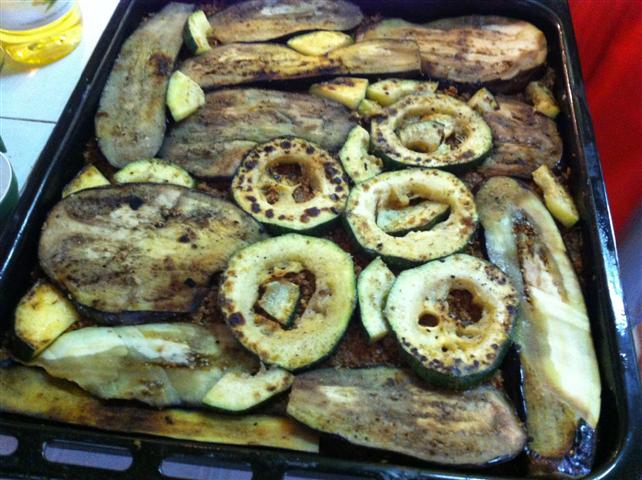 - Add spoons of the meat layer on top of the slices...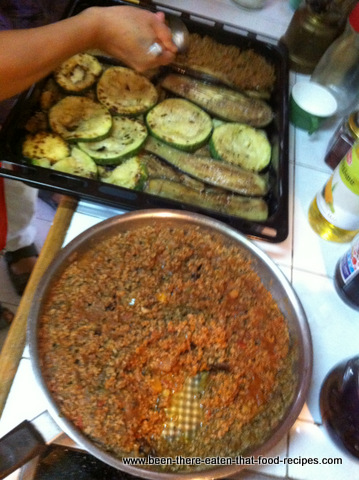 ... until fully covered.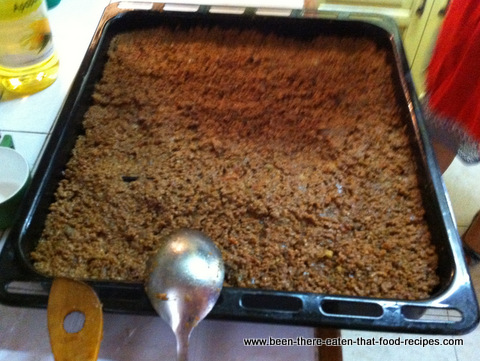 - Add another two layers of vegetable slices as before, covering the meat layer. Salt the veggy layers. Pour plenty of olive oil on top.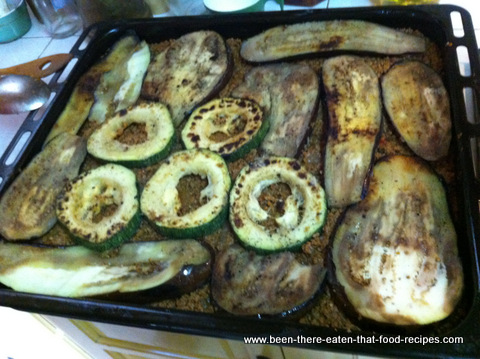 Bechamel

- Preheat the oven at 180ºC (350ºF).

- Place a deep saucepan over a medium heat. Add 1 Tbs butter and let it melt.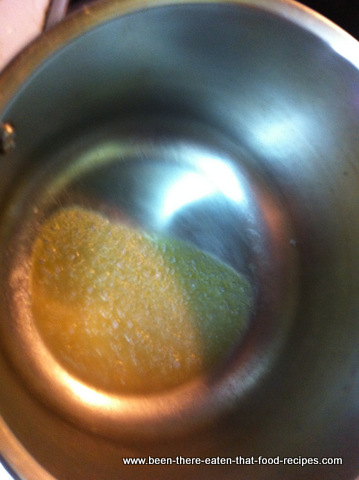 - Add 2 Tbs flour and quickly with a wooden spoon dissolve the lumps. Add a bit of milk and stir all together.
- In a blender, mix a quarter of the remaining milk and 4 Tbs flour together, and add it to the saucepan stirring continuously until obtaining a smooth cream.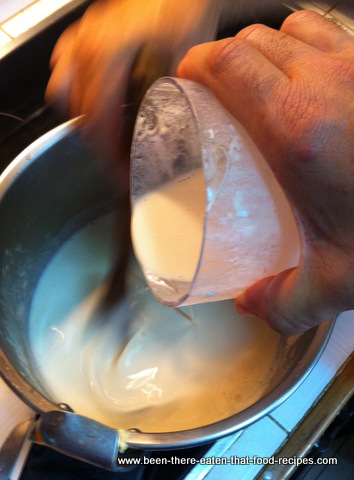 - Add the rest of the milk and stir. Add another Tbs flour if needed. Stir all well.

- Keep on stirring continuously.

---
NOTE: if in spite of your best efforts the bechamel looks lumpy, don't worry. Once baked, the lumps are not going to be obvious.
My suggestion: If, however, you would like to avoid this struggle, replace the plain flour for cornflour. In this case, you just add the cornflour to the total volume of the cold milk, it will dissolve instantly. Then add this cornfloured milk to the pan over a medium heat with the melted butter, and stir continuously until it starts boiling. No lumps to be seen!

---
- Once the bechamel starts boiling, add the eggs and mix thoroughly.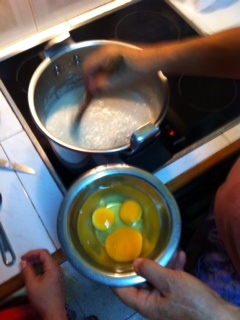 - Add the Quaker oats.
- Season with salt, freshly milled black pepper and whole cloves, freshly grated nutmeg and cinnamon ground.
- Remove from heat and pour the bechamel over the moussaka...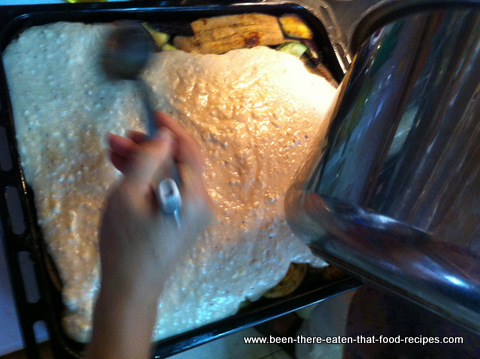 ... until covering completely all the surface.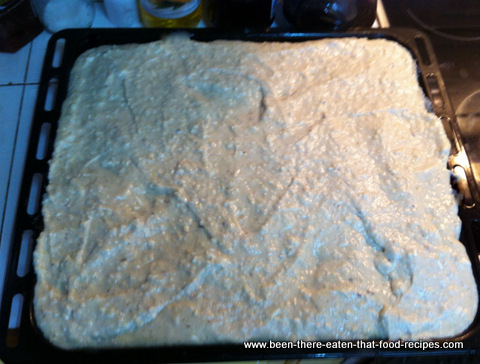 - Add some olive oil on top, bring the moussaka to the oven, and cook for 1 hour.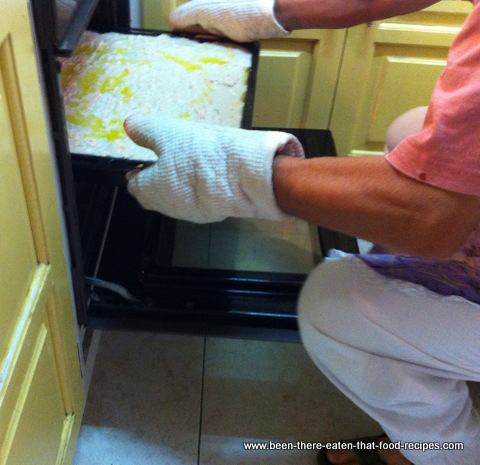 The wait was worth it, ...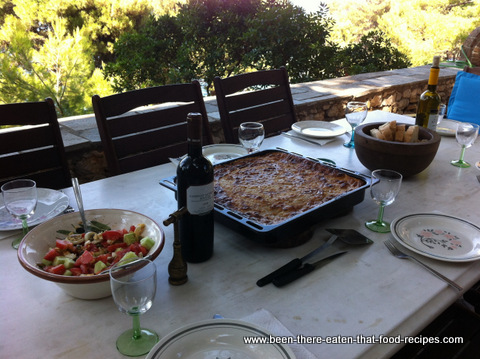 ... this moussaka was a family success!

With Yannis, discussing the benefits of this moussaka recipe...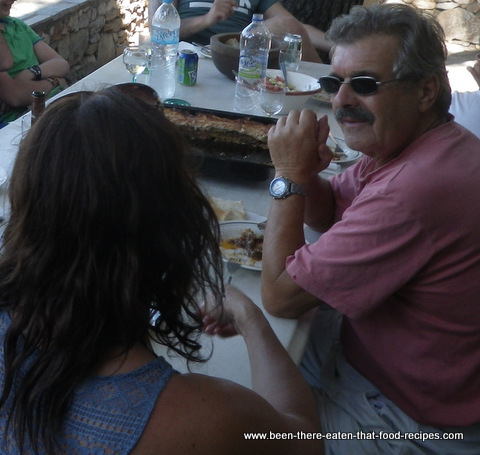 ---
---
- Go from Moussaka to Alonissos
- Go from Moussaka to Greek_food

- Go from Moussaka to HomePage
---
FREE eBook & Newsletters
---
Are You Proud of Your Cooking Skills?
Would you like to have a Web Page dedicated to Your Best Food Recipes? Your friends, family and the public would be able to see your page, try your recipes and leave comments...

Ideally, write about recipes of your own creation. However, you are welcome to write about somebody else's recipes as long as you acknowledge their credit.

With this chance of shining online, your cooking will be so much more appreciated!!!
---