Moroccan

-

Mint

-

Tea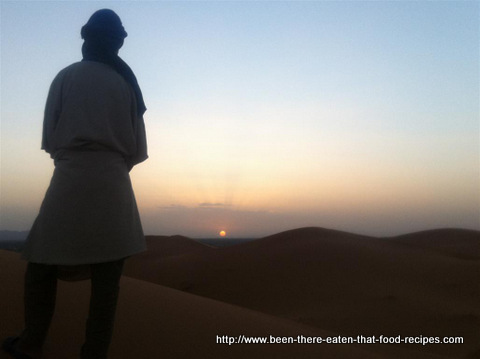 People from Morocco are known for their hospitality, and offering Moroccan-Mint-Tea is their way to open the doors to new frienships and old traditions.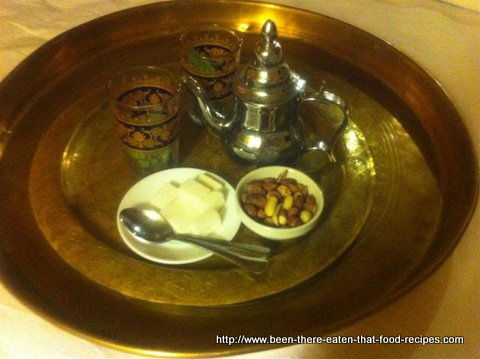 It is served all day long, accompanying every conversation, any meal. Any occasion is an excuse for having some Mint Tea, maybe with some almonds.

It is presented in beautifully ornate tea pots and glasses, widely available from most markets ("souks").

The tea pots are silver coloured but the glasses can be clear or extremely colourful, so characteristic of the Moroccan crafts.
In the towns or in the middle of the desert in a Berber tent, Mint Tea is always offered. It encourages conversation and facilitates price negotiations.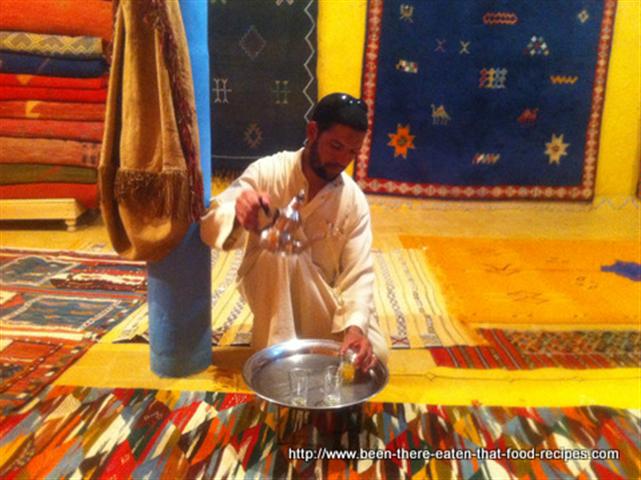 It has to be served from some height for a nice foam to form. As we were told: " Moroccan-Mint-Tea without foam is like a Berber man without his turban".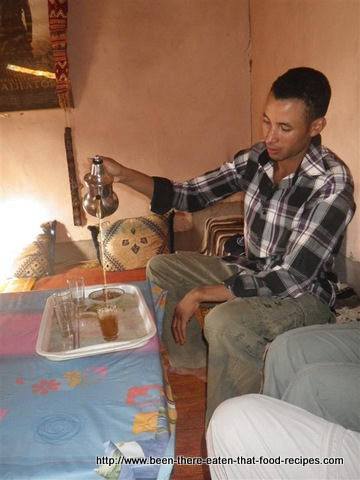 Moroccan Mint Tea has been shown to have many positive health benefits, one of which is often over looked by athletes and that is the ability to relieve muscle pains and strains. Many Boxing coaches around the world are now including Mint Tea in their pupils post recovery diet as the aches and pains caused by performing intense kettlebell exercises to supplement Boxing sessions are often relieved with the addition of Moroccan Mint Tea to the diet. Quicker recovery equals more intense training sessions and therefore a better athlete.
Recipe

(For 6 glasses of tea)

Moroccan Tea pots vary in size but roughly a large pot holds a litre (enough for 12 glasses of tea) and a small one holds half a litre (6 glasses).
The traditional Moroccan-Mint-Tea needs Green Tea from the Chinese Gunpowder variety (although any other pure version will do), Spearmint leaves (if not available any fresh Mint variety will be fine) and it tastes extremelly sweet (of course, you can adjust it to your taste).
MOROCCAN MINT TEA
Ingredients
1 Tbs

loose Gunpowder Green Tea (equiv. to 3 bags of Green Tea)

~ 10

fresh Mint sprigs and 4 extras for garnish, washed

3-4 Tbs

sugar

1 litre

boiling water
Preparation
Place the Green Tea inside the tea pot and add about half a litre of boiling water. Swirl around to warm the pot and to wash the tea leaves. Discard the water keeping the tea leaves in the pot.
Add the Mint leaves, the sugar and the remaining water to the pot.
Leave it to brew for about 3 minutes, or if you prefer it stronger, bring it to a medium-low heat and simmer for 3-5 minutes.

Serve one or two small heatproof glasses from a high distance above (about 20-30cm or as high as you can manage) to aerate the tea. Pour the tea back to the pot. Repeat this step at least once to obtain a foamy tea, and to make sure the sugar is dissolved and the tea is properly mixed.
Serve the glasses from high again and offer the foamy tea to your guests.
---
- Go from Moroccan-Mint-Tea to Morocco
- Go from Moroccan-Mint-Tea to Homepage

---
FREE eBook & Newsletters
---
Are You Proud of Your Cooking Skills?
Would you like to have a Web Page dedicated to Your Best Food Recipes? Your friends, family and the public would be able to see your page, try your recipes and leave comments...

Ideally, write about recipes of your own creation. However, you are welcome to write about somebody else's recipes as long as you acknowledge their credit.

With this chance of shining online, your cooking will be so much more appreciated!!!
---