Frozen Cake
Easy and impressive!!!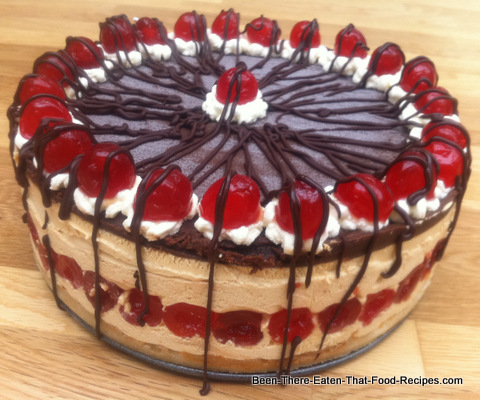 Every time I make this Frozen Cake people look so impressed that I am absolutely sure they had no idea how simple it is to make.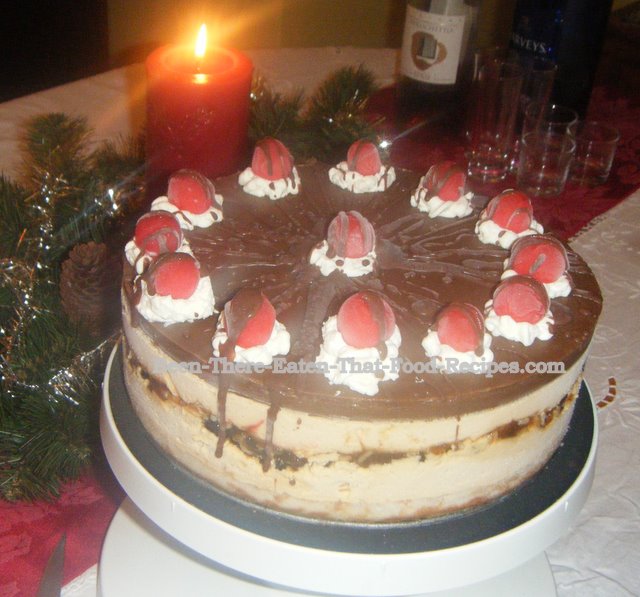 My niece Catalina gave me this recipe (from my sister's cook notes, but nevertheless) when she was visiting us, some years ago. She certainly impressed my sons with it, no question about that!! I just added the cherries into a layer and at the top, and completed the decoration with cream nests and some chocolate 'leakage' to make it even more outstanding.

For this cake you will need a spring form mould for an easy release of your cake without any damage to the presentation. Try to choose one of those with Teflon ® to make the process even simpler. With these moulds you can present your Frozen Cake on its base, without the need to transfer it to another serving plate (minimising the chances of disaster...). You have now the option of choosing one of those pretty ones with a glass base.
By the way, did you know that the Teflon ® we are so familiar with these days for its application in the kitchen, turned 50 years old in 2011? As many brilliant inventions, it was discovered by accident, by Dr Roy Plunkett at the DuPont research laboratories in New Jersey in 1938, when searching for a new refrigerant!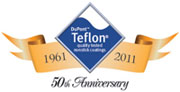 Its surface is so slippery, that practically nothing sticks to it. It is surprising though that it took 23 years for this polymer to start being massively used in non-stick cookware, isn't? If you want to know more interesting facts about Teflon ®, read this link.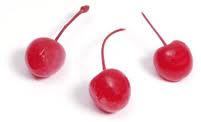 Filling:
Base:
1 large flan case (or sponge or crushed biscuits)
port or port-flavoured syrup or syrup
Optional:
about 50 Maraschino cherries
an extra bit of chocolate to melt
Preparation
- Place the flan case on your working table and put the base of the springform mould on top.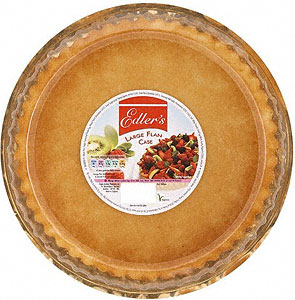 - Cut with a knife the border of the flan base that are left outside the circumference of the mould, we won't need them. Place the reduced flan base inside the assembled mould and moisture with Port or Port-flavoured syrup (just add some Port into your syrup!) according to your taste. If you are intending to serve this cake to children, you may prefer to use just
syrup
.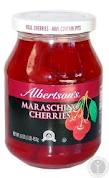 - Whip 500ml of Double Cream until very soft peaks form and mix it roughly with 500g of Dulce de Leche.
- Place half of this mixture inside the mould, on top of the moistured base.

- Take to the freezer until quite solid.
- Halve some cherries and place them all around with the concave part facing the mould (see picture below).

- Chop some more cherries and spread them evenly on the surface. If you prefer, you could add the chopped cherries onto Dulce de Leche and spread both together as a layer (see second picture from top).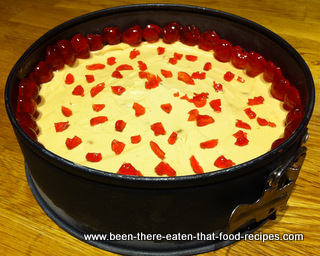 - Carefully not to disturbe the decorated border, add the rest of the mixture into the mould.
- Take to the freezer again until hard.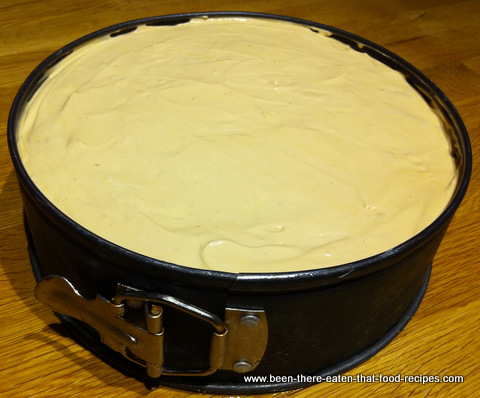 - Just then, melt the butter and the 100g of chocolate taking care to avoid overheating the mix (using a microwave is a good and neat option, but be careful to heat for few seconds at a time, mix, few more seconds, mix, and so on, until the mixture is melted and homogeneous).
- Add the 100g of Dulce de Leche and mix this cover cream thoroughly.
- Pour over the cake making sure it is well distributed and smoothly flat.
- Freeze for another 3 hours.
I like to decorate this Frozen Cake with cream nests topped with Maraschino Cherries. With that in mind, proceed as it follows:
-Use the remaining 100ml of Double Cream to prepare a Chantilly Cream, or just whip it until firm.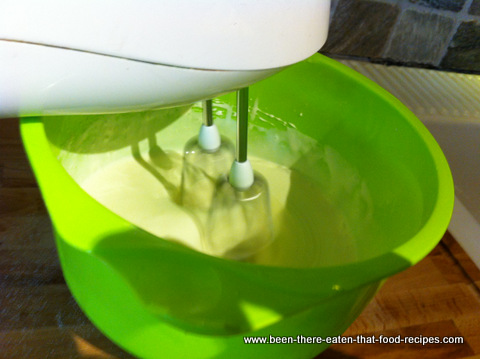 -With the help of a decorating kit, or just with the help of a teaspoon, form nests around the edges, making sure of not touching the border, and one at the centre.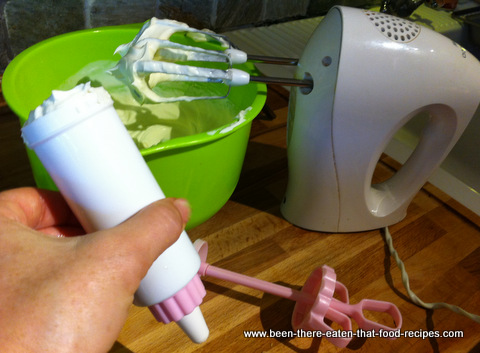 - Add a cherry into each nest.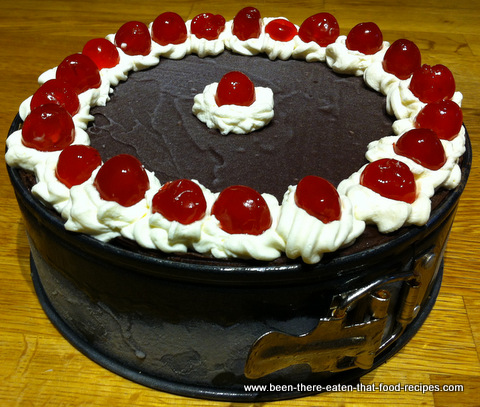 - Before removing the mould, pass a thin spatula or knife between the cake and the mould, and then open the spring form carefully.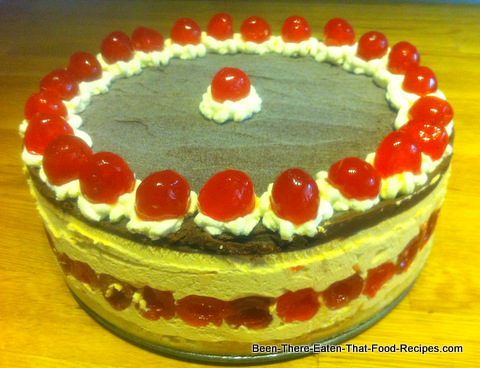 - Melt a bit of chocolate to decorate on top of the cherries.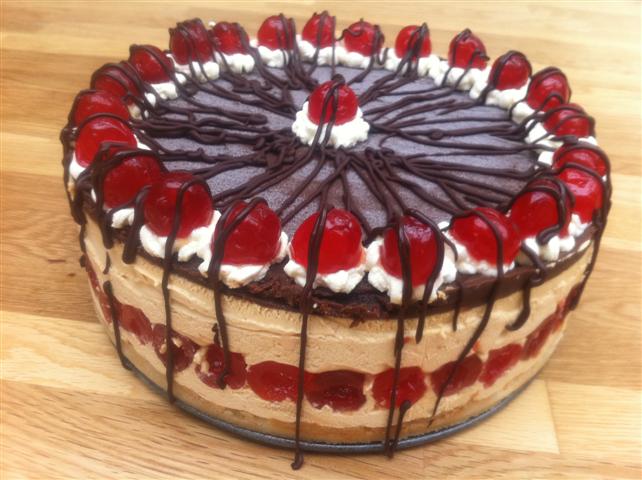 -Take it back to the freezer.
- For serving, bring the Frozen Cake out of the freezer and leave it to stand few minutes at room temperature before taking it to the table.
It looks and tastes great!!
---
- Return from Frozen Cake to Cakes

---
FREE eBook & Newsletters
---
Are You Proud of Your Cooking Skills?
Would you like to have a Web Page dedicated to Your Best Food Recipes? Your friends, family and the public would be able to see your page, try your recipes and leave comments...

Ideally, write about recipes of your own creation. However, you are welcome to write about somebody else's recipes as long as you acknowledge their credit.

With this chance of shining online, your cooking will be so much more appreciated!!!
---