Tagines & Couscous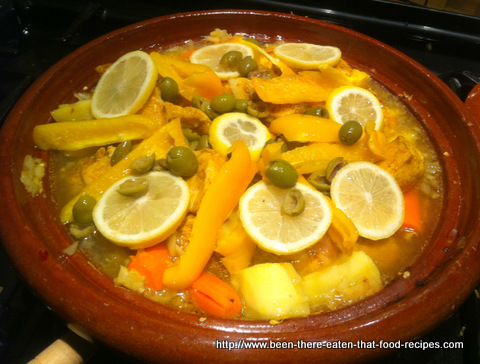 Tagines and Couscous are to Moroccan cuisine what woks and rice are to Chinese food.  Tagines are earthenware pots typical of the country; they are round and deep, and have tall conical lids of the same material. By extension, they also refer to slowly cooked stews prepared in these pots.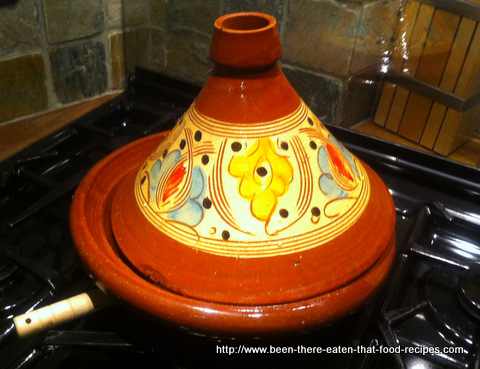 During our stay at a Berber camp after a caravan through the desert, Mohamed (the man in charge of the camels) prepared for us this delicious tagine. He was happy to teach me how to cook all in one pot, couscous inclusive, and how to pile up all the vegetables in a conical shape to allow the lid to fit perfectly and seal the simmering.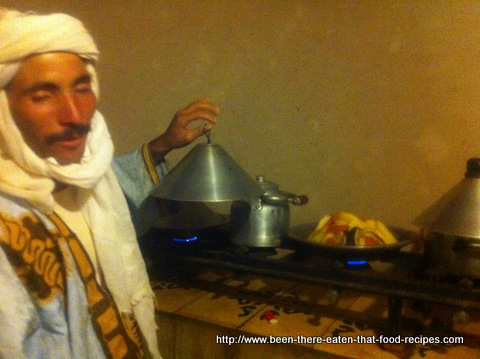 For convenience, some tagines are made out of metal. Less fragile and lighter, they are easier to transport. That´s why nomad tribes, like the Berbers, prefer them.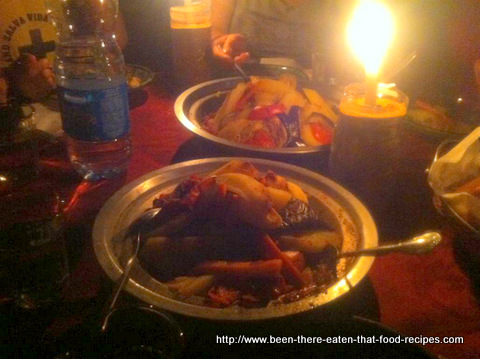 Typically, a meal starts with a selection of hot and cold salads served with bread;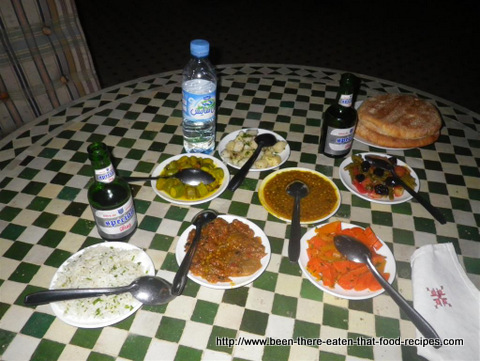 then comes a tagine of meat, vegetables, spices and couscous;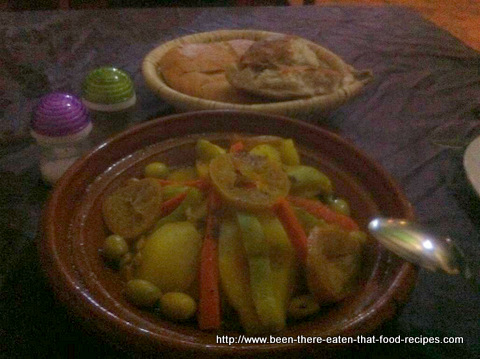 sometimes a dish of lamb or chicken comes next;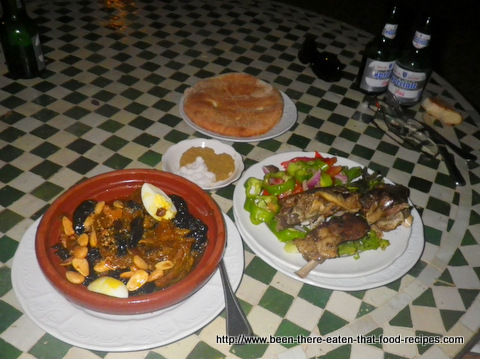 and finishes with a simple dessert of seasonal fruits, such as orange slices topped with cinnamon powder, or just a plate with melon, watermelon or apple slices.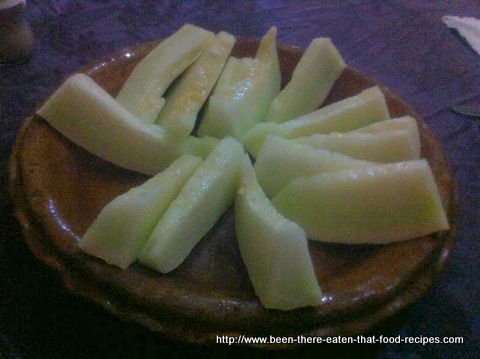 Tagines are a very aromatic combination of strongly spiced slow-cooked ingredients, such as: meats, traditionally lamb and chicken (the slow simmering allows the use of economical cuts of meat); onions, sweet potatoes, carrots, aubergines, potatoes, chickpeas, preserved lemons, boiled eggs, olives, dates, pistachios, raisins, almonds, plums; spices: key in Moroccan dishes (tagines are heavily spiced although not hot!), cumin, paprika, turmeric, saffron, coriander, cinnamon, ginger, cayenne pepper; and of course, couscous.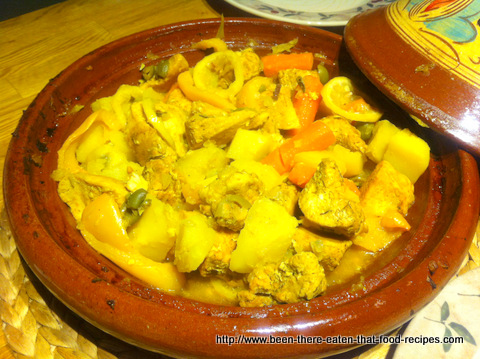 You can serve the tagine in the same pot to keep it warm, or transfer it into a plate.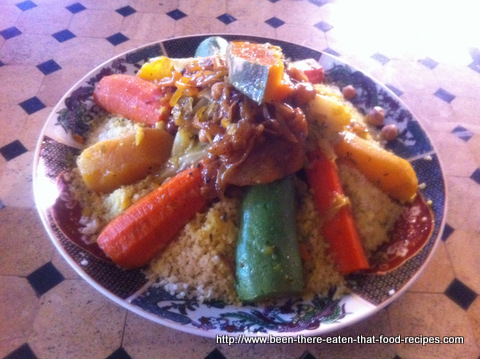 ---
CHICKEN AND CHICKPEAS TAGINE
Ingredients
(4-6 people)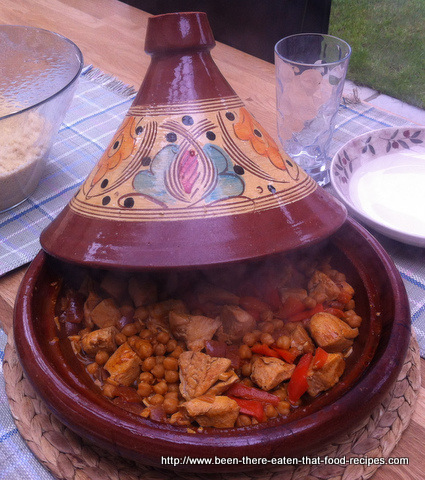 Preparation
Place a heat diffuser on a large burner to avoid burnt food. If you don´t have a diffuser, don´t worry, just make sure to stir the stew frequently to avoid burnt food.

Place the tagine pot on top of the diffuser. You could also use a large and deep saucepan  instead  of the tagine pot.

Heat the olive oil in the tagine.

Salt the chicken pieces, bring to the tagine pot and cook on medium heat until brown all around.

Lower the heat, add the onions and garlic, and cook until soft stirring, from time to time (if not using a heat diffuser, stir more often).

Add the red pepper, tomato paste, and the spices: cumin, paprika, cayenne pepper, coriander, and red chilli. Mix well and cook for about 3-4 minutes.

Add the chicken stock and stir thoroughly.

When the stock starts simmering, lower the heat and add the chickpeas, the green olives and the lemon juice.

Adjust salt and spices if needed.

Couscous: we have two options:
             -We cook the couscous separately, according to the pack                     instructions.
             -We add the couscous into the tagine and let it cook with the              flavoured juices for a more intense taste.
I prefer the second option, but sometimes there is not enough room in the tagine pot for the couscous, and  in that case it makes sense to prepare it apart.

Cover with the lid and let simmer on a very low heat for about 20 minutes or until chickpeas and vegetables (and couscous if added to the tagine) are tender and ready.

If the couscous was cooked apart, serve first the couscous in a plate and then add the content of the tagine on top. If the couscous was cooked with the rest of the stew in the tagine pot, serve all together from the pot.
- Go from Tagines & Couscous to Homepage
- Go from Tagines & Couscous to Morocco
---
FREE eBook & Newsletters
---
Are You Proud of Your Cooking Skills?
Would you like to have a Web Page dedicated to Your Best Food Recipes? Your friends, family and the public would be able to see your page, try your recipes and leave comments...

Ideally, write about recipes of your own creation. However, you are welcome to write about somebody else's recipes as long as you acknowledge their credit.

With this chance of shining online, your cooking will be so much more appreciated!!!
---