The chili_recipes you really need
Mexico is an inspiration paradise for chili_recipes. In there you will find hundreds of chili varieties, with their different colors and degrees of piquancy.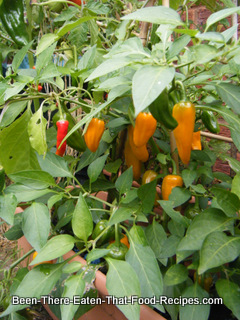 As you walk the towns and visit their open markets, you will encounter chili in all sorts of forms: fresh, dried, fried, pickled, roasted, toasted, powdered and even jellied or jammed.
May be the more familiar for the outsider are the jalapeños - that we usually find on nachos - and the rocotillos - they are wider and therefore perfect for stuffed chili_recipes.
If you visit Mexico, you will discover that is extremely difficult to feed on anything that doesn't include chili in its preparation, being the staple ingredient of the Mexican cuisine.
Once back at home, don't despair, you can grow your own chili very easily on pots. They produce very abundantly. I usually get more than I can consume, so I freeze them for later. Take into consideration though that during the freezing process, chilis will lose part of their hotness. Click here to have a look at my current vegetable crop.
Mexican Sauce
(with fresh tomatoes)
This sauce receives its name because the color of its ingredients are those of the Mexican flag: white onions, red tomatoes and green jalapeños chilis!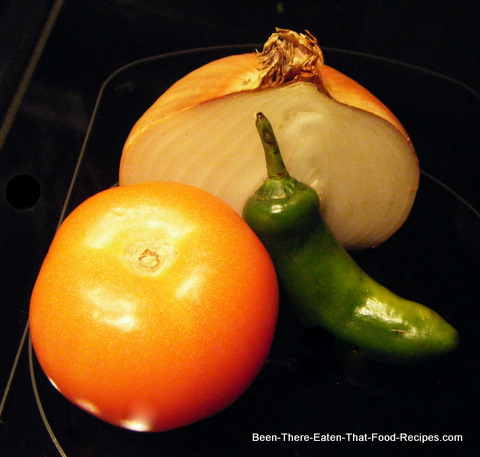 It's so versatile and easy to make!
Give it a go, and in no time it will be one of your family's favourites...
Have it as a dip for tortilla chips or as a garnish for meat dishes.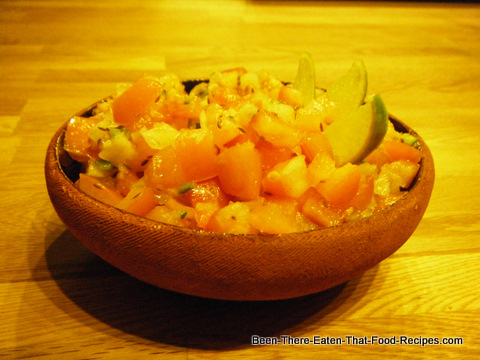 Ingredients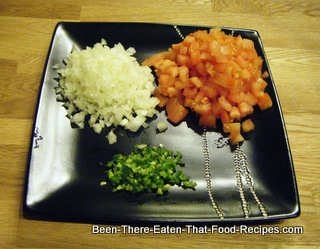 (makes about 3 cups)

- 4 large tomatoes, diced
- 1/2 white onion, diced
- 1 jalapeño chili, seeded and finely chopped
- 2 tablespoon coriander, fresh and chopped
- 1 garlic, minced
- juice of 1 lime
- 1/2 cup olive oil
- 1/2 teaspoon ground cumin
- salt to taste
Preparation
Simply mix the ingredients together!!
Salsa
(with cooked tomatoes)
This sauce is ideal as topping for enchiladas, nachos, burritos, fajitas, tacos y quesadillas.
Ingredients
(makes about 2 cups)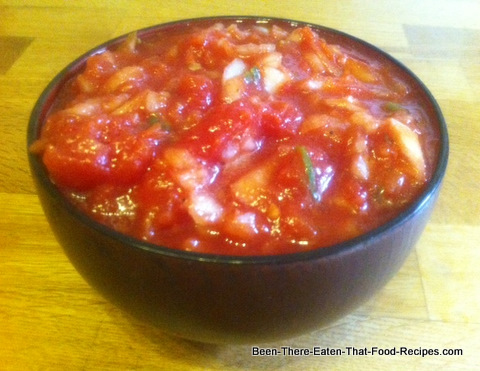 - 1 x 400g can chopped tomatoes (if you find a fire-roasted one, even better!)

- 2 onions, chopped

- 1-2 green chilis, finely chopped

- 1 clove of garlic crushed or about 1/2 teaspoon garlic salt

- 1 tablespoon olive oil

- 2 teaspoons red wine vinegar

- 1 teaspoon dried oregano

- 1/4 cup chopped coriander

- salt and freshly ground black pepper to taste
Preparation
Place the chopped tomatoes in a bowl.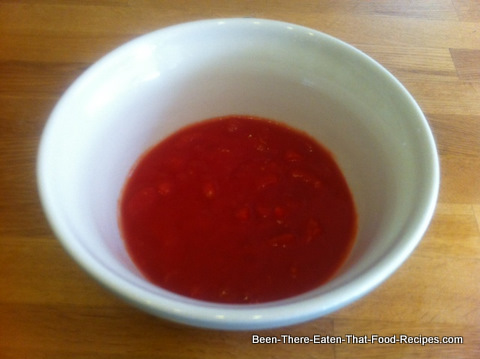 Add the rest of the ingredients.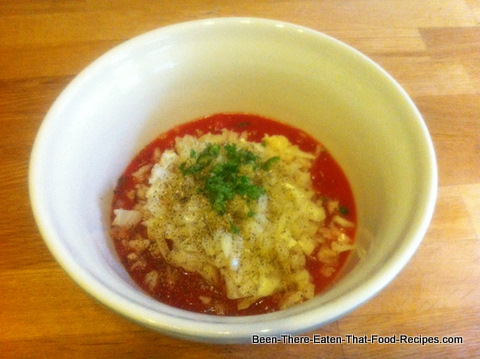 Mix altogether.
Adjust seasoning to taste.
Your sauce is ready!

Variation: For a more subtle sauce, bring it to a frying pan and cook until onions soften and loose the strong sharp taste.
Note: If you are a serious chili fan, I recommend you Fab Chili Recipes for everyone, you will thank me!
---
- Return from chili_recipes to Mexican Wave
- Return from chili_recipes to Food Recipes